Search For Any Domain Name
Free

with every domain registration
Domain Manager
Take control of all your domains, renewals, billing and services in one place via our friendly Domain Manager which includes quick setups and management tools.
DNS Hosting
Manage your DNS settings for your domain name. Configure DNS records in real time with our robust and reliable DNS Hosting service delivered across a global network.
24/7 Support
We're here to assist you! Every product provided is backed by 24/7 support. Connect any time to our global support centres and speak with our friendly, professional support agents
Domain Transfer
We have an easy, open policy allowing you to transfer your domain anytime and unlike other registrars we have no lock in contracts or fees.
How to choose a good domain
Choosing the right name is extremely important for establishing yourself online. It will be your website address www.mybusiness.ph and also part your email name@mybusiness.ph
Your web address should be short, easy to remember and also convey the exact right message. To get started enter the name you want and click "Search". If the domain name is available, you can register it instantly.
Which domain extension is for you?
There are many extensions to choose from. You can even register multiple domains.
Country
Also known as ccTLDs (country code top-level domains) are great for connecting you with customers within a specific region. They are among the most popular primary domain names for businesses of all kinds.
Generic
Also known as gTLDs (new top-level domains) will help create more awareness and interest in your business or brand. We would suggest you register your industry-related domain along with your Country domain for maximum exposure.
Example
.plumbing for a plumber
.cafe for a coffee shop
View all gTLDs
Global
Also known as TLDs (top-level domains) if you are targeting a market globally these domain types are best suited for you. Most businesses or individuals register a Country Domain and Global domain together.
Example
.com for commercial identity
.org for global organization
View all TLDs
How do you manage your domain name?
With our powerful Domain Manager, managing your domain is quick and easy.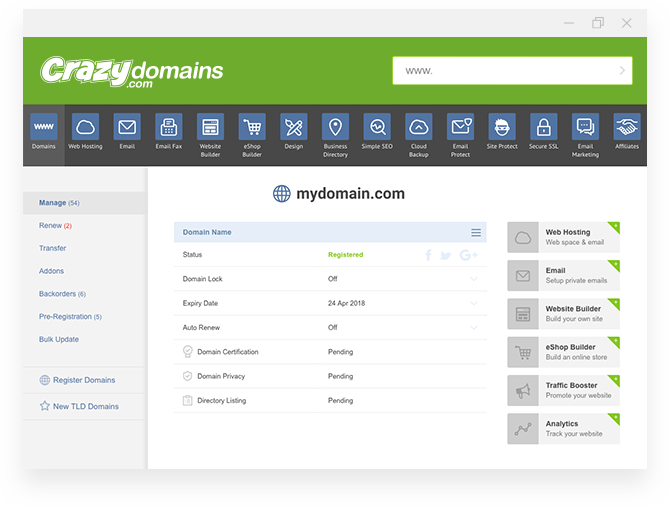 Manage all your domain names, renewals, billing and services in one place. Through our friendly Domain Manager which is included with every domain.
With a simple "one click" setup feature you can connect your domain instantly to Web Hosting, Email Hosting or any services, without any tech knowledge.
The Domain Manager comes complete with quick bulk update tools and domain folders allowing you to group and organise your domain portfolio easily.